What is the Significance of Value Education?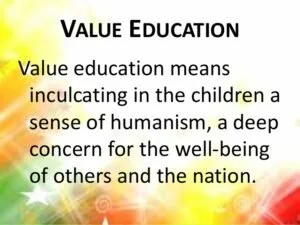 With the passage of time, it seems that more and more schools across the globe are mulling the inclusion of value education in curriculum. In the wake of the rising number of crimes worldwide, it seems that even the schools that are not thinking on similar lines should start doing so without delay. Today, in the course of the post, we will go on to explore a few nuances of Value Education. Read on to find out more about the same.
What exactly is Value Education?
Very simply put, with the help of Value Education, teachers try to inculcate moral values in students. Be it about respecting others, cooperating with fellow team members (be in school, colleges, universities or work place), or about assessing one's own behaviour, the main purpose of Value Education is to ensure that learners are able to realize the true worth of "education" beyond text books.
In fact, there is a marked difference between literacy and education. And, this difference is best manifested in Value Education. The particular concept entails long-term well-being of the student himself and others around him as well.
The Important Components of Value Education
The controversy surrounding Value Education is primarily triggered by its intrinsic nature. While some question its academic nature, there are others who opine that it can be taught anywhere – and not necessarily in schools – within the four walls of a classroom.
There are many who view Value Education as Socratic dialogue where individuals are made capable of realizing the worth of good behavior or what good behavior is and how it can actually benefit others.
With the help of this concept, teachers or educators are increasingly making efforts towards improving the integral growth of humans around. And this is achieved by promoting awareness about all the following attributes:
The instrinsic worth of good behavior, compassion and cooperation
Interaction with the environment which includes not only the living but non-living beings as well
National history and heritage
Constitutional rights
Community development
National Integration
Summing Up..
Notably, value based environmental education include the following – very crucial – components:
Values like love, compassion, tolerance and cooperation are instilled from a very early age because these are a few attributes that define an invidual beyond his academic degree. Learning social values also require students to be duly aware of their responsibilities towards biodiversity.
Educators have opined that students should be made aware of the early Vedic emphasis on the preservation of Nature. Besides stepping up our efforts to earn academic degrees we should also realize the fact that under no circumstances should we exploit Nature to meet our own needs. There are even rituals or customs that teach us that we should protect Nature – i.e. its elements earth, water, fire and air.
Additionally, the need to acknowledge avenues of others' well-being is more intense than ever. This is perhaps one of the reasons why the need to include value education in schools is more intense than ever as well!