Tips for Effective Self-Education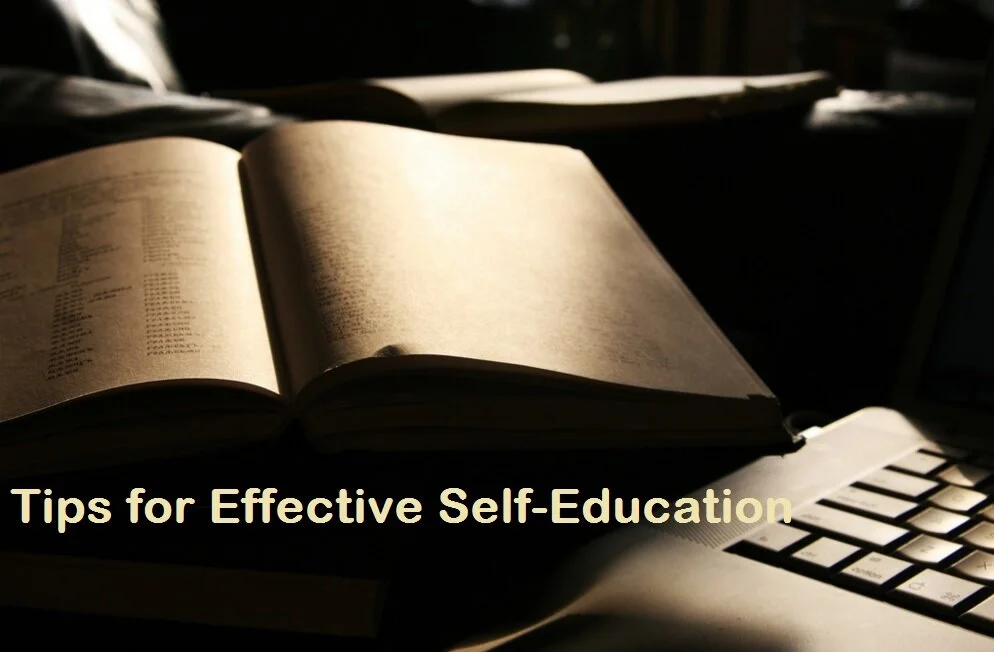 In this age of advanced and modern technology, any of us can learn everything easily.
 Self-education nowadays is very easy with the help of a variety of different sources such as educational videos, e-books, and courses available on the web.
However, independent learning (self-education) is a voyage that requires great intention and commitment as well to chase learning goals efficiently.
Below we are about to discuss best tips for effective self-education that will surely help you take the right attitude on that will take you to the drive of a successful journey for self-education to learn new things or to enhance your skills without getting services of any educator or teacher.
Choose a goal
Having a clear idea of what the purpose behind self-education is, should be at the top of the list when you are about to kick start the journey of independent learning.
Once you have a clear goal for self-education in mind, easily you will be able to chase it by using different resources and learning materials.
It helps you a lot to understand that how much time you will need to spend on searching in order to guess the main concern of your self-education process.
Consistency is the key element
In self-education, consistency is the key to the successful learning whether you are learning to write content or getting new ideas to design professional logos.
It is something great that helps you to remember the stuff on regular basis in order to be ready for the next things coming on your way.
For this purpose, you must build a study plan to follow when you really want to get some effective results from independent learning.
Build a schedule to follow
Schedule making enables you to get enough time for learning no matter you are busy in the business related projects or in household chores.
It is the process of writing down and organizing your learning goals and tasks in the best way possible to get desired outcomes at the end.
Create better studying environment
Not only to do office work but having an organized desk is also important for effective self-education journey.
Creating a better studying environment help you stay more focused on your learning goals.
Some basic things for a great learning environment could be a comfortable chair, a laptop, necessary books, and some writing gadgets like pens and markers etc.
Improve the focus
It is said by educators that the better focus you will have on study or learning, the more effective the outcomes will be.
Thus, improving the focus is one of the best tips for effective self-education in order to chase learning goals in time.
Turning off your mobile notifications and other tech gadgets alert is the great way to improve focus when learning.
Notes taking
As notes taking is important in traditional learning systems, its role in self-education is also had great significance.
Notes taking is one of the learning hacks that could also help you later when you are getting prepared for the next phase of learning.
Use different learning sources
In this age of internet and latest technology, you can use different learning sources for effective self-education such as youtube videos, blogs, e-books and so on.
Through this way, you can polish your skills and learning abilities to a great level.
Try online courses
In these days, you can find different online courses and tutorials over the web to learn things that you want.
Just search for an apt online course in Google and you will find plenty of choices to select from. It is one of the best tips for effective self-education.
Be practical
After reading a step by step guide to get things done, you must do it yourself in order to bring perfection in your work.
Doing things practically enhance the knowledge greatly and help you to minimize the errors while doing so in the professional field.
Discover your weak points
Knowing your weak areas is a great way to enjoy effective self-education.
When you have a clear understanding of what areas of expertise need to be improved, you will be able to get yourself better to learn more effectively.
Make learning a habit
Learning never ends. It is a journey of discovering new things on regular basis.
By making learning your hobby or habit, you can get more knowledge and information in particular field of life to get the things in your favor.
For example, if you want to become a successful blogger, you must visit famous blogs, websites and youtube videos with blogging tips and trips to learn more even without leaving your bedroom.