How to make the best use of parent teacher meeting?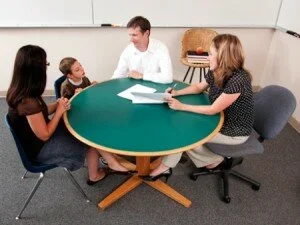 Parent-teacher meetings are designed to evaluate a child's performance in school by means of discussions. It makes for a collaborative effort (from both the parents and teachers) towards the betterment of a student's progress. It's your responsibility to ensure that you're only making the best use of this opportunity. After all, nobody understands the child better than his own parents and teachers and when both of them unite for his (i.e. the child's) progress then desired results are sure to come.
Parent-Teacher Meetings: Where parents go wrong and what they should understand
Now, the problem with parents is that they actually fail to understand the true essence of a parent-teacher meeting. To start off with, let us tell you that it is not at all about sitting five minutes before the teacher and just listening to what he or she has to say. It's more about absorption – and not mere listening. It's not about listening and answering possible questions but questioning as well.
Which questions should you ask your child's teacher?
What are the possible questions that you might put forward in front of the teacher? Here's a look:
Is there any particular academic standard that you follow which I need to know about?
How can I motivate my kid to spend longer hours at study?
Do you have any special suggestion regarding the way in which I should set a study routine for him/her?
What do you think are the common barriers to my child's progress?
What are the merits of the learning models used by you (there might as well be several learning methods adopted by different schools including mobile learning, project-based learning among others)
How do you personalize your teaching method? How do you suggest we should do it as well?
What do you think I should ask you which I am not asking you now?
Are you aware of what your child really needs to progress in class?
It is important to realize that not every child's requirement is the same- neither are their interests. For instance, the same geographical map might as well grasped differently by two different students. While one might be more driven by colors, another might as well find a background story of each of the places more interesting. Since your child is different from most of the other kids, your questions (concerning his progress) directed at his teacher should be different as well.